Where Does the Breakfast Burrito Come From?
Where Does the Breakfast Burrito Come From?
The breakfast burrito is a classic staple on diner and cafe menus across America, especially in the southwest. California, New Mexico, and Arizona have popularized the standard burrito, a Tex-Mex favorite that many say came about when a man wanted to eat his food on the go and decided to put it into a tortilla shell. But where did the breakfast burrito come from?
What is a Breakfast Burrito?
The inventor of the breakfast burrito really leaned into the argument that says breakfast is the most important meal of the day. Filled with loads of rich and delicious breakfast ingredients, a breakfast burrito gives you the energy you need to get through the day. It also tastes amazing. While the first breakfast burrito was made with potatoes, bacon, and eggs, there isn't one specific recipe for a breakfast burrito. It's simply a burrito that you eat for breakfast! Here are some of the most popular takes on the breakfast burrito today:
The Original: Hashed browns, eggs, crispy bacon, and green chile sauce.
The Los Angeles: Flour tortilla, scrambled eggs, fresh avocado, bacon, white cheddar, potatoes, pico de gallo, fresh salsa.
The San Diego: Steak, hash browns, and spicy chipotle sauce.
The Colorado: Scrambled eggs, cubed potatoes, and half mild green chile, half hot green chile.
Whatever you put in your breakfast burrito, all that matters is you love it. It doesn't have to be just for breakfast, either! Breakfast burritos can make a healthy lunch or brunch, too.
The First Breakfast Burrito
There are many stories about where the first breakfast burrito popped up. But the general consensus is that it first came onto the scene in New Mexico during the 1970s. Eating eggs and bacon in a tortilla was already common in a state where American, Mexican, and Latin American cultures intertwined. The 1970s was just the first time that someone decided to put it on a menu.
Since then, the breakfast burrito has exploded in popularity, with states and cities creating their own adaptations, searching for ways to make the classic dish their own.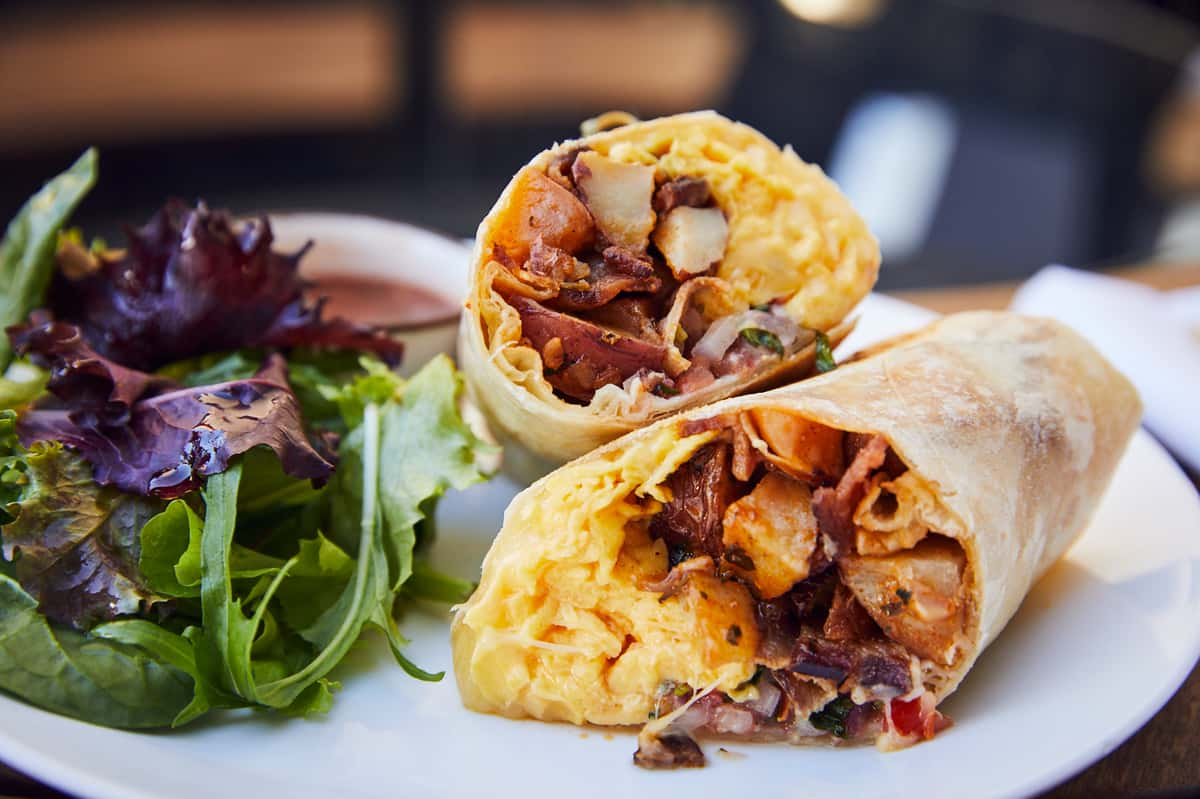 Are Breakfast Burritos Healthy?
Breakfast burritos can be healthy depending on what you put in them. For a healthier breakfast burrito, focus on fresh ingredients and unprocessed foods. If you're dining out, look for burritos that aren't laden with fatty ingredients and always be ready to ask for substitutions or subtractions.