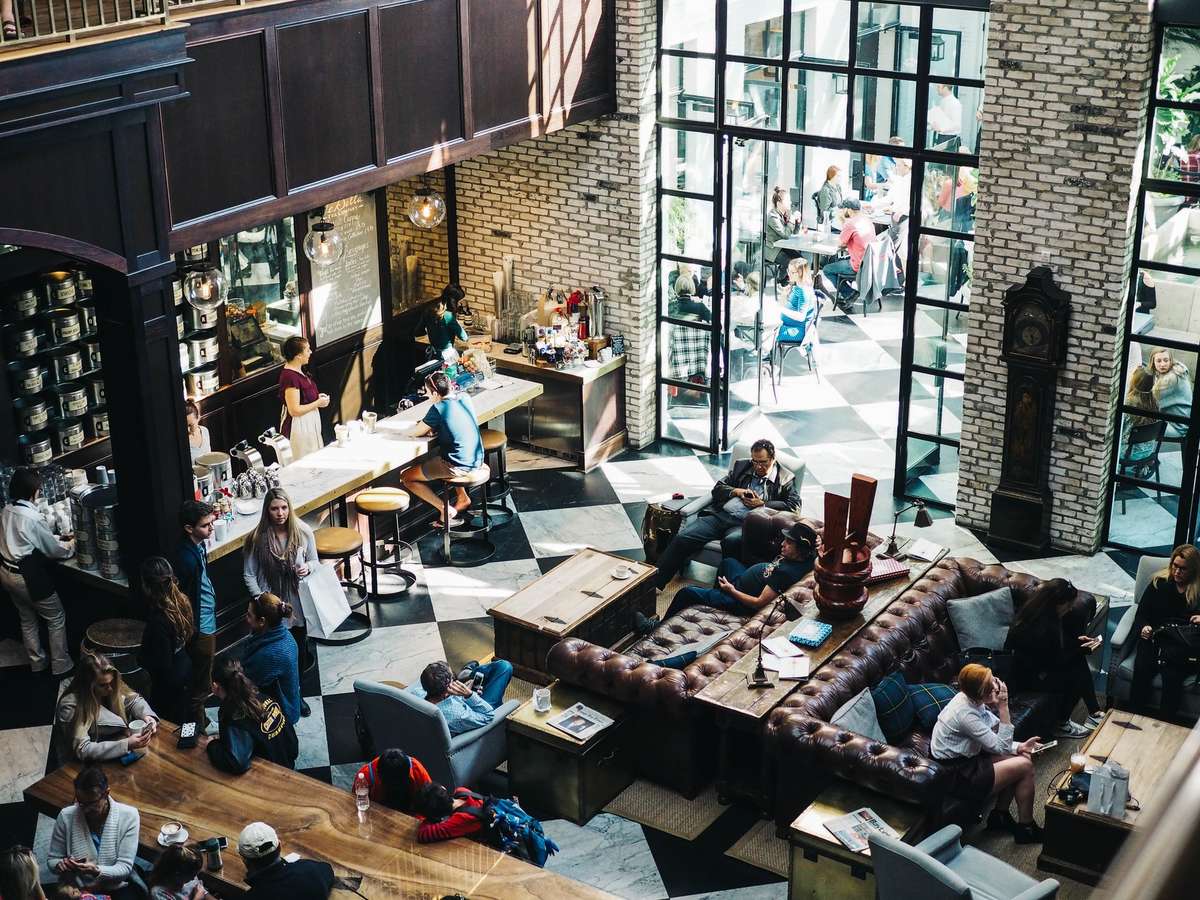 People enjoying coffee, working, and socializing at their favorite coffee shop.
Top 7 Qualities of a Great Coffee Shop
Great coffee is just one important aspect of a quality coffee shop. Going to your favorite café should be it's own unique experience. The baristas happily sharing their knowledge and recommendations. The ambience and atmosphere created by lighting, music, and design. The decadent desserts displayed beautifully behind the counter. Local art hangs on every wall. It has the perfect balance of friendliness, quality, and engagement that keeps you coming back!
7 Qualities To Look For In A Coffee Shop
1) Customer Service
Watch how a business handles customer requests or complaints. This can be a good indicator of how the business is run and what it's priorities are. Businesses that are resistant to change, rude to customers, or unwilling to provide accommodations are red flags. Instead, look for coffee shops that ask for suggestions, work with the customer to reach agreements, and are polite and helpful in all situations.
2) Cleanliness
Any place where you're eating and drinking should be clean at all times. Stick to the coffee shops that consistently provide a clean and welcoming environment for you to enjoy their products in.
3) Atmosphere
Speaking of a "welcoming environment", a great coffee shop always has the perfect atmosphere and ambience. This might look different shop to shop depending on what niche the company is aiming for. Coffee shop ambience creates a majority of the experience for the consumer. Comfortable seating, chill music, fresh roasted coffee smell... mmm. Perfection.
4) Quality Products
A coffee shop is only as good as it's coffee. A great coffee shop always has a variety of quality coffee types and food items to choose from. Look for different types of beans, varied ways of preparation, and locally sourced products.
5) Accessibility And Convenience
Having your favorite coffee shop down the street is a dream come true. Location is important to many of those who regularly drink coffee. Is it on the way to work? Is it hard difficult to get to? Can you drive, walk, ride your bike, or take a bus there? Does it have accessible options for those who need it?
Convenience also includes drive thru windows and amenities such as comfortable seating and free Wi-Fi.
6) Community
One of the major things that sets apart amazing coffee shops from the rest is how they involve their community and culture. The best coffee shops advertise for local events, promote local artists and businesses, and actively involve themselves in activities around their community.
7) Happy Baristas
What does it matter if the employees are happy or not? Actually, it matters quite a bit! Happy employees are better workers overall. Having baristas that love their job means better quality products, cleaner environment, positive customer engagement, and company growth.