Sack Lunch Ideas for Kids that are Healthy
Not Sure How to Keep Your Toddler Eating Right? Pack Healthy Lunches!
Packing a lunch is a simple way to provide your child a healthy meal when they leave the house. But keeping things healthy can be challenging. Kids are unpredictable; they might want peanut butter and jelly one day then refuse to look at it the next!
Preparing Kid's Lunches in a Balanced Way
Comoncy delivers a delicious kid's french toast, but we also want your children eating healthy when they're out in the world. As such, we've prepared a list of some things we suggest you pack in your toddler's lunch if you're running out of ideas.
1. Turkey Meatballs
For toddler lunches, meatballs are a staple! Turkey meatballs are nutritious, simple to prepare, and delicious. You can find frozen ones at some local grocery stores that are easy to warm up and back. Serve them with carrots, marinara dipping sauce, peas, whole wheat bread, or mashed potatoes.
2. Fruit and Cheerios
Instead of serving Cheerios with milk, you can opt for dry Cheerios with sliced strawberries, blueberries, and diced pears. It will keep your children's stomachs light by not weighing them down with unhealthy fats.
3. Turkey and Cheese Wrap
A turkey and cheese wrap is incredibly simple to prepare. Combine cheese and turkey deli slices in a whole wheat tortilla and cut it into 3 inch pieces. You can also add a tablespoon of hummus to help it bond and give it a creamy feel. For a healthy toddler lunch idea, serve this wrap with blueberries, hummus, and fresh cut vegetables.
4. Hummus Sandwich
To prepare a hummus sandwich, spread hummus between two soft bread slices or an English muffin. Serve this sandwich with steamed carrots and whole-grain crackers. A hummus sandwich is a great way to add fiber and protein to your toddler's diet and reduce the risk of constipation.
5. Butternut Squash Mac and Cheese
Another excellent lunch idea for toddlers is Mac and Cheese. This recipe uses butternut squash and is a terrific way to get more vegetables into their diet. This dish goes well with shredded chicken and green beans!
6. Soft-Roasted Cinnamon Chickpeas
For a quick snack meal, combine these tasty beans with cheese, diced veggies, whole-grain crackers, and a piece of fruit. It goes well with leftover rice, shredded chicken, and roasted vegetables. They're a little salty, sweet, and full of easy-to-digest nutrition.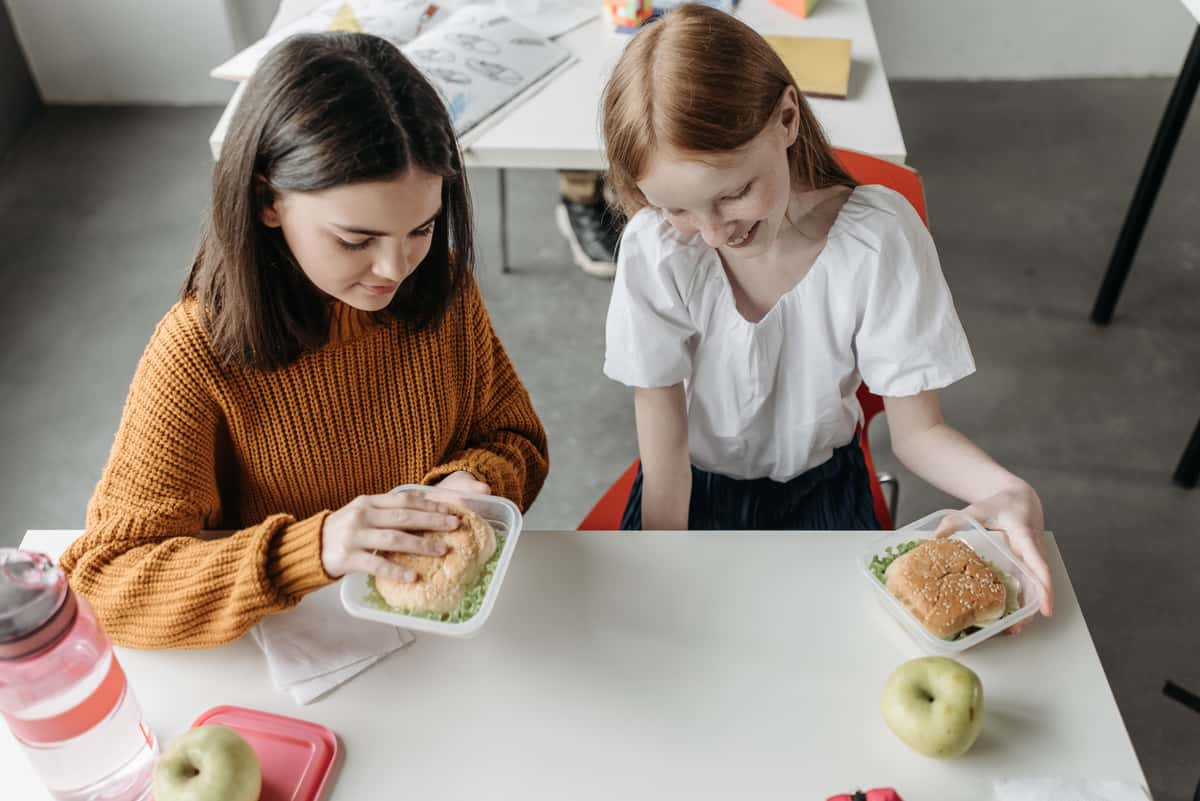 Getting Creative with Toddler's Lunches
Kids are picky eaters. If these lunch ideas don't work for your toddler, don't feel limited! If there's something that seems more fitting to your child's taste, change it up and substitute an ingredient! A well-balanced children's lunch box should include a crunchy snack, fruit, some dairy, protein, and veggies - so keep that in mind when making your choices.
If you're looking for more insight, check out some of these related articles:
35+ Toddler Lunch Ideas For Daycare
10 Super Easy (and Healthy!) Lunch Box Ideas For Toddlers & Preschoolers